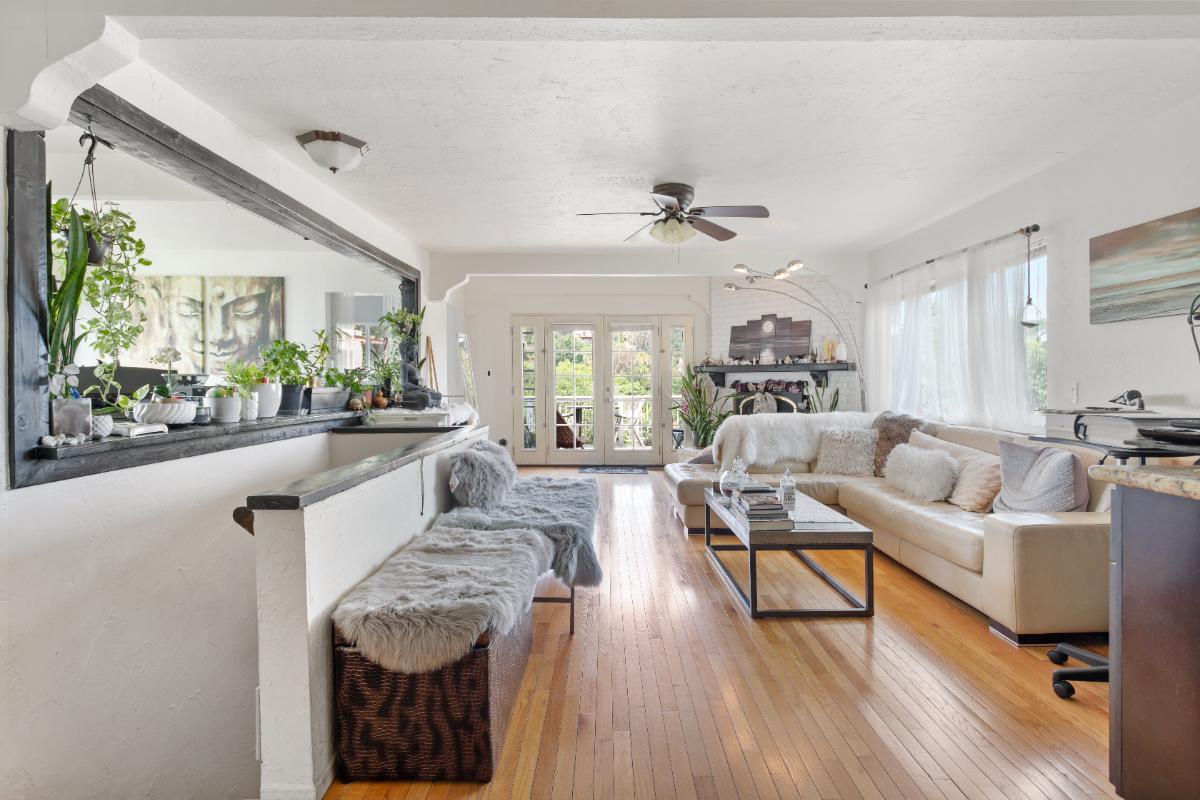 Renting one (long) bedroom room with a full bathroom (one level above) in a large four-bedroom/four-story house (4,000 + sq. ft). There would be no one living above or below you! There is also a private exterior entrance one stairway above, in addition to the main front door!
Located in the Hollywood Hills by Sunset Plaza Dr. and Wonderland/Lookout Mountain off of Laurel Canyon. AMAZING city and ocean view from front of the house and mountains with greenery from the back patios. You will have access to two shared patios. Very secure house with security cameras outside. Lots of great scenic walking areas! The house is centrally located in Laurel Canyon, easily access the Valley side or West Hollywood, and even take the back roads to Beverly Hills or West LA.
The room has ample space to fit a Queen bed, small nightstand + dresser, small desk or a futon/small couch or lounge chair + more! Perfect to use it as a writing studio, office space, production studio etc. There is a Chalkboard wall by the little window. Window and patios face the backyard which shows some greenery 🙂 There isn't a built-in closet, but the past tenants used either the rolling rack (bc they were a super minimalist or a tall double wardrobe closet.
(BESIDES THE MAIN KITCHEN YOU CAN USE – ) ALSO, There is a kitchenette area above your room which includes a small fridge, microwave, coffee machine, electric stove burners, conventional oven, sink with garbage disposal, and bar countertop with 2 stools. There is no one that sleeps above or below you, you will only share 1 wall with a roommate next door that is out of town a lot. The room is very secure, all side doors have a metal gated door and can be opened for fresh air. The room can be heated with an electrical heater during cold days.
*** BONUS: there is a Pristine Hydro reverse osmosis Water system in the upstairs kitchen installed. Properly mineralized water that is 100% free of undesirable acids and contaminants.
Utilities will be split between roommates depending on the number of people that live at the house.
AT&T 300+ speed Wi-Fi Internet (upload and download speed). + FREE USE of our other accounts: Netflix, HBO Go, Hulu, Amazon Video etc. Included above will also be maids coming monthly to clean all Common areas and guest bathrooms! Landlord will also cover monthly organic pest control services!
Currently no pets on site but open to discussing small pet option /monthly fee
This is a 100% Smoke-free house indoors, you are welcome to use the patios or your door's entrances to smoke. Note, there are lots of stairs in the house so you get extra exercise, no elevator 🙂
About us: 3-4 roommates In a huge house (4 floors) . We are all private yet friendly busy individuals, chill and clean.
One roommate works in marketing and promotions and is usually out of town. She is quiet and chill, sometimes on zoom calls for work. The guy roommate is a healer/ hypnotherapist and author. He's usually either seeing clients, creating content for his work in his room, or in the kitchen making raw vegan food – he is at his one 2 offices days a week. I am a girl with a boyfriend, we have a health and wellness business and artist booking agency. We are typically gone about 9-12 days a month minimum.
We all don't party in the house and we are all chill and of kind heartedness! Still fun but all very busy with work. Feel free to ask any additional questions. 🙂
We require a first month's Rent + security deposit, references and decent credit. Lease is from May 1st until Nov 30, 2022, then it will go to a 6 month lease each time if all parties agree 🙂
Free Street parking available For guests as well.
$1600 includes everything above + (ACCESS ALL FLOORS*) 1 bedroom, 1 bathroom, kitchenette area, small living area, 1 patio/balcony, laundry area
*The upper floor includes:
Full kitchen:
– gas oven/stove
– microwave
– dishwasher
– fridge (only have to share with 1 person),
– nutribullet
– vitamix
– ricer cooker
– norwalk cold press juicer
– food processor
– food dehydrator
– rice cooker
– bread maker
– pressure cookers
– double air fryer
– glass salad spinner
– soda stream machine
– conventional toaster oven
-tru espresso machine with burr coffee grinder
– paper shredder
– irobot on 1st floor
– Rabbit Air Purifier
– full dining room
– baby grand piano
– living room
– guest bathroom (upper level)
– patio upper deck
– wood burning fireplace (BYOW)
– small projector in living room
– massage table
– outdoor security cameras
Common areas and shared Amenities on other floors:
– patio lower deck
– washer and dryer (Samsung)
– large 8′ long backdrop for photoshoots avail if needed
– clothing steamer
– shop vac vacuum
– misc tools
– rebounder / trampoline
– inversion table
– green screen wall
– medium fridge on mid level for use (shared with 1 person)
– Germ Guardian Hepa Filters in all common areas on all floors
– Blushield Tesla Gold Ultra (Blushield is an active EMF protection technology designed to protect users from the health effects of man-made electromagnetic fields from mobile phones, smart meters, Wi-Fi, 3G, 4G, 5G and all other sources of EMF. The Blushield Ultra is designed to protect you wherever there is high-powered microwave radiation. This may be emitted from cell phone tower antenna masts (within 100-250m) or nearby smart meter grids.