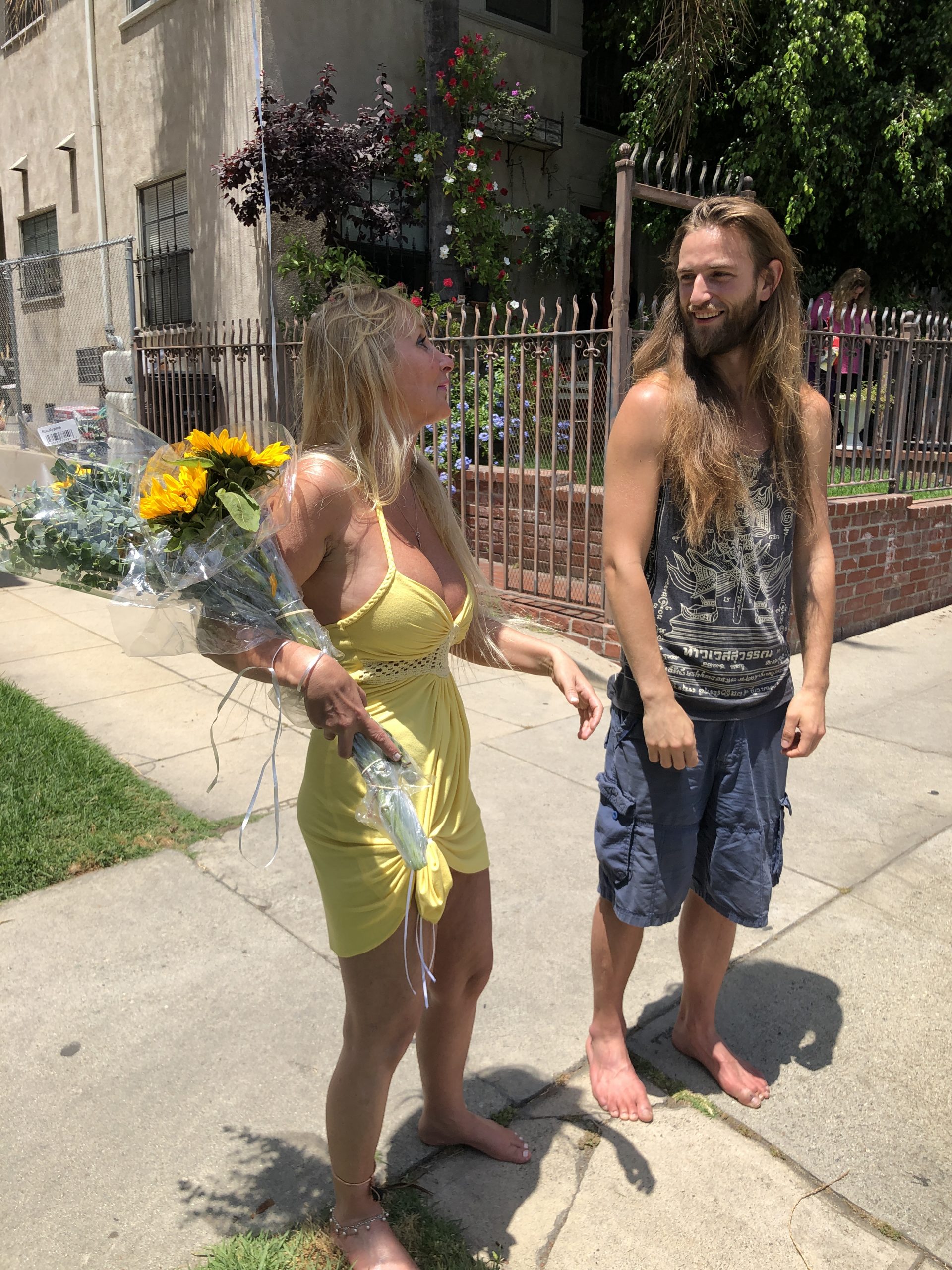 Los Angeles, West Hollywood – Furnished room for rent
$1,800 per month (plus security deposit)
Flexible rental term available
This is also available to rent per 7 day weekly (with security deposit). 7 day weekly is $450.
Your $1,800 per month includes a fully furnished room.
Available starting November 7th, 2022
As follows is a list of fairly new, (only been used for 7 months) furnishings: Full sized memory foam bed and bedding, bathroom towels & cloths, mini fridge with separate freezer, microwave oven, Keurig coffee & tea maker, 5 drawer dresser & 2 drawer nightstand, computer desk & chair, other new & unused miscellaneous items. The room has a cozy 2 chair & coffee table seating area. Closet is equipped w/hangers & other misc. wardrobe solutions with hardwood floors but with area rug. Closet size is 3.5 ft. deep by 5 ft. wide.
The room color scheme is burgundy, gray, chrome, white & cream. Carpeting is burgundy. Room size is 12 ft. deep by 14 ft. wide. Your monthly cost of $1,800 covers ALL utilities.
This also includes bathroom hygiene needs (all eco-friendly bath tissue, hand soap, cleaning supplies, laundry soap, dryer sheets). You can also freely use any of the condiments in the kitchen such as oils, spices, etc. I will be making the purchases & keeping the home supplied with these products, so you do not have to. You will be sharing only the shower/tub in the full-sized bathroom w/ me, but for other hygiene needs, I use the small back bathroom.
Who is suitable for this rental: If you have a nighttime schedule away from home whether it be work or school, that is the best for me, because I run my business from my home and I need the evenings to work with my clients privately.
If you are a quiet, private, introverted person that likes to keep their habits and lifestyle separate from other interactions in the home. But you also like to engage & can use the whole house, kitchen & yard for your own coziness & lifestyle needs. If you are the kind of person that does not use recreational or medicinal drugs, alcohol, smoke, or do not have any animals, and you are not bothered or inconvenienced by the sounds of my happy active home, as well of the sounds of a city, then this rental is perfect for you.
Get to know my family and I and our home:
I am a 53-year-old mom w/ a 31-year-old son. My son lives close by and visits home often. You are sure to enjoy his company when you meet him. He is incredibly creative, majestically magical, compassionate, noble & kind, and very protective over his mother and family home. In this home, my family will meet you with nurturing, loving, spiritual, engaging, wildly fun vibes. I am a certified holistic life, vegan nutrition, and environmental coach, as well as a certified Reiki practitioner. I run my coaching, nutrition, and Reiki business from my home, and this is why I need privacy for my clients. Our home is unique, exotic, spiritual and eccentric. The home is not new and fancy, but old with great charm. You will often hear a variety of music, laughter, as well as quiet, peaceful, calm serenity, and you will always smell incense burning. The living room as well as the kitchen is mostly where I run my business out of, creating recipes and designing nutrition schedules for my clients. The kitchen is all vegan, absolutely no animal products stored, cooked, or prepped in the kitchen. If your diet is not vegan, you are welcome to all your dietary habits in your own fridge and microwave that is in your room. You are free to use the kitchen as long as you respect the rhythm. Our home is 3 bedrooms (with your bedroom being in the middle), a large living room, dining room with an outdoor terrace, kitchen, full sized bathroom, laundry room, with a small back patio and yard area. Our home is a two-story duplex, we are on the bottom level, so keeping respectful hours and noise levels is important. We'll work together for a harmonious balance, for all to feel peaceful and comfortable.
Our neighborhood is in the heart of Hollywood, CA. You will enjoy a unique mix of the sounds of a big city, close by neighbors, as well as the beautiful sounds of nature. There is 24 hour food delivery. Easy to locate address for transportation services, easy access to all bus and subway lines; You're located in one of the most famous spots in Hollywood. You are half a block from the famous Sunset Strip, West of La Brea. Walking distance to our famous nature preserve, Runyon Canyon Park. Los Angeles, CA 90046.
Your financial responsibilities:
$1,800 per month (plus security deposit)
Flexible rental term available
This is also available to rent per 7 day weekly (with security deposit). 7 day weekly is $450.
Let's talk over the phone first and discuss Video chat, so I can give you a view of the room. Preferred method of contact is phone or texting. Email is ok as well, but you will not receive as prompt of a reply.
From my family,
Moonshadow Black
323-360-7741